About
Me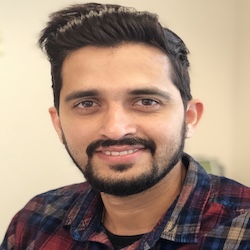 Let me introduce myself...
Hello I'm Sudheer Varma Rudraraju, I'm a Full-Stack NodeJS Developer from San Francisco Bay Area, California. Highly-skilled software development professional bringing more than 12 years in Software design, development and architecture. Advanced knowledge of NodeJS, JavaScript/ECMAScript6, ReactJS and AngularJS.

• Lead Developer developing/hosting the Cutting-Edge technology Microservices in IBM Bluemix Cloud, developing cloud components using NodeJS (LoopBack and ExpressJS), Java/Springboots and mentoring the development process to integrate Microservices with Redis SSL, Dynatrace, IBM Cloudant and Apache Kafka.
• Having strong developing experience with developing RESTful Web Services using NodeJS (Loopback and ExpressJS).
• Experience in working with AngularJS and BackboneJS frameworks.
• Possess strong experience in implementing Circuit Breaker design patterns for large-scale applications using HystrixJS.
• SME in analyzing the Splunk and Dynatrace alerts/reports for critical Production issues/Performance issues to provide the intact solution and fix for the issues.
• Actively involved & developed scripts in DevOps process to automate the CI/CD pipeline to deploy components to IBM Bluemix cloud on continuous basis.
• Area of expertise includes IBM Bluemix, Microservices/NodeJS components development & testing, Java development, enhancement and Production Support.
• Possess excellent proficiency in the following areas.
o IBM Bluemix, Microservices, Webservices (SOAP & REST), NodeJS, Angular JS, Loopback, JAVA/J2EE, Springboots CSS, JSP, HTML, Dynatrace, Splunk, Sonarqube, Nexus IQ, WhitehatIBM Cloudant, API Connect, Backend for Frontend, Factory of the Future, Apache Kafka, MounteBank, HoverFly, Redis SSL, WebStorm and Groovy.
Kaiser Permanente, Pleasanton, CA
Ful Stack Developer
Kaiser Permanente is an integrated managed care consortium, based in Oakland, California, United States, founded in 1945. Kaiser Permanente is made up of three distinct groups of entities: the Kaiser Foundation Health Plan and its regional operating subsidiaries; Kaiser Foundation Hospitals; and the autonomous regional Permanente Medical Groups. Kaiser Permanente operates in nine states and the District of Columbia and is the largest managed care organization in the United States.
DXC Technology
Full Stack Developer
DXC Technology is an American multinational end-to-end IT services company headquartered in Tysons Corner, Virginia. DXC provides information technology and consulting services to businesses and governments. The company operates in more than 70 countries and trades on the New York Stock Exchange under the symbol "DXC" and is a component of the S&P 500 index. DXC was formed in 2017 from the merger of Computer Sciences Corporation (CSC) and the Enterprise Services of Hewlett Packard Enterprise.
Virtusa Consulting Services Private Limited
Software Engineer
Virtusa Corporation (NASDAQ: VRTU) is an American information technology services company founded in 1996 in Sri Lanka and has its headquarters in Westborough, Massachusetts, United States. The company provides IT consulting, business consulting, systems implementation and application outsourcing services to large enterprises and software vendors and is possibly the most well known Sri Lankan technological enterprise.